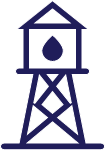 sanitary
We offer a vast range of sanitary works for domestic, industrial, commercial, and agricultural uses. These include water supply networks, irrigation supply networks, firefighting networks, gravity sewage networks, and pressure sewer pipes. We also carry out the design work for sewage treatment plants, desalination plant units, groundwater reservoirs, and tower water tanks, among other environmental works..

mechanical
We offer diverse mechanical works such as ventilation and air conditioning systems, as well as plumbing, laundry, boiler, and kitchen works. We are also specialized in the mechanical works of swimming pools and fountains, fire protection systems, and pumping stations.

electrical
We provide a range of electrical services for the residential, administrative, and industrial sectors, as well as public works. Our services include the design of low, medium, and high tension networks, earthing systems, lighting systems for landscapes and roads, telephone and data networks, and power stations. We also carry out an all-round design for the lighting, power, telecommunication, and fire alarm systems for buildings.